Member Preview: Crossroads of Civilization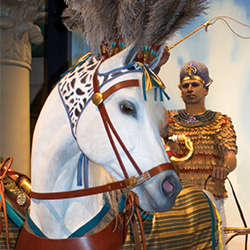 You're invited to a free, member-only preview of:
Crossroads of Civilization: Ancient Worlds of the Near East and Mediterranean
5 - 9 p.m. Friday, March 6 or
9 a.m. - 5 p.m. Saturday, March 7
Come experience 4,000 years of history with two epic member previews. Stand alongside King Tut. Peek inside the temple of Pharaoh Ramesses III. See a coin from the time of Cleopatra. Examine artifacts from ancient Greece. Crossroads of Civilization takes visitors back in time to the golden age of early civilization.
Don't miss your chance to welcome MPM's first new permanent exhibit in 10 years.
Reservations required by Tuesday, March 3.
---
During the preview, be sure to catch our new planetarium show, Ancient Skies, produced in-house as a companion to the exhibit.
Ancient Skies - exclusive sneak peek!
Show times:
Friday, March 6 - 5:30, 6:15, 7 and 7:45 p.m.
Saturday, March 7 - 10:30 and 11:30 a.m., 1:30, 3:30 and 5:30 p.m.
Free to Patron members ($6 for Classic).
---
The Museum Cafe and Coffee Kiosk will be open until 7 p.m. on Friday and 3 p.m. on Saturday.
Space is limited. Call the Membership Hotline at (414) 278-6170 or (888) 700-6069 to reserve. Reservations cannot be made online.